The end of a marriage is never easy and going through the process of filing for Divorce online adds an additional layer of complexity to the experience. Filing for Divorce in Texas can be done both online or in person, but how do you know which option is right for your situation?
Understanding what online divorce entails and knowing whether it applies to your individual circumstances are key when deciding if this pathway makes sense for you. Knowing what resources are available and making sure that any paperwork filed meets legal requirements is essential. That's why as a family law attorney, I'm here to provide insight into the important factors surrounding filing for Texas divorce so that you can determine if this approach works best with regards to your situation.
What is an Online Divorce in Texas and How Does It Work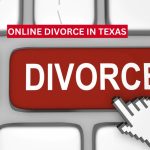 An online divorce in Texas is a great solution if you are seeking a simplified, cost-effective way to legally end your marriage.
This option allows spouses to file for divorce through an online platform without the need for courtroom appearances or lengthy litigation procedures.
To file for an online divorce, both parties provide their personal and financial information online and sign the documents electronically using state-approved secure methods.
Once all of the documents are completed and submitted to the clerk's office of the county court where the petition is being filed, then both parties will receive a final decree of divorce or dissolution of marriage. As your family law attorney, I'm proud to offer this service as it provides convenience to my clients while ensuring they receive a fair division of assets.
Texas Online Divorce Requirements
Filing for a divorce in Texas requires all parties to meet certain conditions in order to proceed. In Texas, the law allows individuals to file for a divorce without appearing in court, but couples must still follow important steps.
To file an online divorce in Texas, you and your spouse must agree to the terms of the divorce, such as community property division, spousal support and child custody. Additionally, either party must have resided in the state of Texas for six months prior to filing and be a resident at the time of filing. It is strongly recommended that you consult a family law attorney regarding these requirements, so you understand what is needed to complete your online divorce process in Texas.
Advantages of Online Divorce
Filing a divorce online can save time and money, while providing more control over the process. It eliminates the need to attend in-office meetings and allows individuals to clearly document their information, supporting documents, and other related details directly from the comfort of their own home.
The automated filing system also reduces potential errors like missing paperwork and incorrect filing dates that can otherwise occur when working with an attorney or third-party facilitator. With online divorce forms, you can easily present your case with accuracy and peace of mind knowing that your details are secure and properly filed with relevant authorities.
Disadvantages of Filing a Divorce Online
Filing for a divorce online may be a simpler, faster, and more cost-effective way of completing the process; however, this means of resolving an important family matter does come with certain disadvantages. It is highly recommended that individuals seeking a divorce seek guidance from a professional family law attorney to ensure that their rights are protected throughout the entire process.
Unless online resources provide legal advice as part of their services or thoroughly explain the process and its potential complications, filing for divorce online can potentially leave individuals facing serious long-term consequences. Without proper legal guidance and representation in court, any settlements agreed upon between the parties involved may not be practical based on the facts of their particular case.
Moreover, some individuals may not be fully aware of all the potential outcomes of an online divorce which could potentially impact their lives significantly in both the short-term and long-term.
Online Divorce Mistakes
Filing for a divorce online is becoming increasingly popular, but there are a few common mistakes to be mindful of when navigating the process. One critical mistake is failing to provide accurate and up-to-date information; if any crucial information, such as children or property, has changed since the initial filing, it's essential to reflect those changes in your new papers.
Another error people make is not understanding all of their individual state and county requirements; certain procedures may vary slightly in different areas and if they are not followed correctly, things can start to snowball quickly and unexpectedly. My best advice when filing for an online divorce is to consider consulting with a licensed family law attorney in your area who can guide you through the necessary steps of filing without leaving anything out.
Online Divorce Lawyer Near Me
When contemplating divorce, you may find yourself weighing the importance of having a family law attorney on your side. It is important to remember that working with an established professional in this area can help ensure that all your legal needs are being met.
Not only can they explain the complex process of divorce and paperwork involved, but they can also provide guidance on how to make intelligent and financially responsible decisions throughout these proceedings. Plus, a family law attorney will be familiar with the courts and local jurisdictions, which may prove invaluable for navigating through this delicate transition successfully.
Online Divorce FAQ
Can I Get An Uncontested Divorce Online?
Many people may be wondering if they can get an uncontested divorce online. The answer is yes! Uncontested divorces are typically the quickest and least costly way to end your marriage, without lengthy court proceedings. Execution of the divorce paperwork online will save time and money by allowing you to avoid attorney fees, court costs, and delays. Make sure that prior to initiating an online uncontested divorce that you meet all necessary requirements such as both parties voluntarily choosing to end their marital relationship. We recommend speaking with a qualified family law attorney to understand the process in further detail so that your best interests are taken into account from start to finish.
How Much Does An Online Divorce Cost?
Trying to determine the cost of an online divorce can be confusing. The cost greatly depends on the complexity of the case, as well as the state and county in which you file for the divorce. Factors such as alimony, child custody, and property or debt division can also heavily impact the financial aspects of a divorce. As a family law attorney, I can help review your case to give you a more accurate estimate on online divorce costs, ultimately helping make this difficult process as affordable and efficient as possible.
Can I Get An Online Divorce in Texas With Child?
Texas tries to makes it easy and convenient to get an online divorce in Texas with children. We understand that having a child involved can make a divorce more complicated, so we provide you the tools and resources you need to make sure the process runs smoothly. Our law firm will work with you to ensure that your rights and interests are protected while making sure that the best interests of your child are taken into account. Our knowledgeable attorneys specialize in family law and will help guide you through each stage of your divorce, helping to ensure a fair outcome for both parties.
In conclusion, an online divorce in Texas can be convenient, fast and cost-efficient. However, it's important to keep in mind that the process cannot eliminate all aspects of a typical divorce and there are various factors to consider when deciding if an online divorce best suits your situation.
It is also essential to be aware of all the requirements for filing an online divorce in Texas and potential shortcomings of such a process. If you have questions or would like further assistance understanding the process, hiring a family law attorney may be the best choice. A family law attorney can provide answers to any questions you may have and ensure that the proceedings are conducted correctly so that your rights are fully protected.