Are you a Texas resident stumped by the complexity of probate law? Looking for an experienced and dependable Houston probate lawyer to handle the legal proceedings of your family estate after a death in the family?
With extensive experience in estates and trusts, our team of trusted estate planning attorneys in Houston are here to provide quality service and expert guidance when it comes to safeguarding your assets. We know how challenging this task can be, so we strive to make navigating the process as simple and straightforward as possible.
Whether you're dealing with a will or living trust, fee structure issues, creditor claims against the decedent's estate, or ancillary court matters related to asset transfers, our knowledgeable attorneys understand all of your questions about probate law.
Probate Attorney in Houston, Tx
Having an experienced legal professional on your side when dealing with probate matters can save you time, stress, and money – especially if there are disagreements among family members over entitlements or problems with titles or title transfers.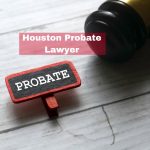 Don't let the complexities of probate law overwhelm you – get in touch with a reliable and knowledgeable Houston Probate Lawyer today!
How to find the right Houston Probate Lawyer for your needs
When searching for a Houston Probate Lawyer to handle your probate matter, it can be difficult to know where to start. It is important to find an experienced attorney who understands the law and has the ability to provide results.
Some things that you should look for in a qualified lawyer include a license in the state of Texas, adequate experience in probate matters, clear communication skills, and a quick response time. Additionally, an effective Probate Lawyer in Harris County, Tx should have knowledge of applicable laws, court systems, and other aspects of estate planning. Finding an attorney with all these qualifications can help you ensure that your needs are met in the best way possible.
Questions to ask before hiring a Houston Probate Lawyer
Prospective clients should make sure that they ask important questions before hiring a Houston probate lawyer. Whether you are dealing with the estate of a loved one or administering an inheritance, it is essential to find a probate lawyer who is committed to quality service and understands the sensitivity of your situation.
You should confirm the lawyer's experience in estate and probate law, their access to resources, such as knowledgeable staff and technology, and their ability to communicate with you in a respectful manner throughout the process. It will also be helpful to inquire about fees upfront so that there are clear expectations on both sides.
A knowledgeable Texas probate lawyer can provide comprehensive assistance and peace of mind at this difficult time.
Flat Fee Probate Lawyer?
After scheduling a consultation with a Houston Probate Lawyer, you can expect a comprehensive examination of your unique estate planning or probate needs. Once this initial consultation is done we can give you a better estimate of what probate costs and fees may be involved, including legal representation.
At this time we cannot commit to flat fee probate lawyer services, but give us a call, but give us a call and we'll analyze your unique situation and give you an estimate of cost.
During the initial meeting, we will not only discuss the legal implications of your situation and the best course of action to take, but also thoroughly answer any questions and concerns that you may have. Your individual circumstances will be taken into account throughout the entire process, ensuring that you receive a tailored approach to your legal needs.
I'm more than happy to personally handle your probate questions and guide you along each step of the way. Rest assured that your case is in experienced and professional hands with me – contact me today to schedule an appointment!
Probate Lawyer Near Me
Being a Houston Probate lawyer, I understand the importance of helping my clients navigate the often complex and challenging process of settling an estate. I offer a broad range of services to meet the needs of each individual case, from pre-death planning and preparation to post-death administration.
I am happy to provide personalized guidance throughout the entire probate procedure, which may include preparing and filing court forms, managing correspondence with probate courts, assisting in appraisals or document reviews related to estate assets, as well as coordinating with financial advisors if needed.
My ultimate goal is to ensure that all parties involved are supported during this difficult time and that the estate is settled promptly in accordance with state laws.
Essential steps of the probate process in Texas
Probate, the legal process of distributing a deceased person's assets to their beneficiaries, can be a complex and time-consuming process in Texas. As an experienced Houston Probate Attorney, I understand the essential steps that must be taken to ensure that your loved one's estate is handled properly and efficiently. The first step is to hire an attorney who understands the laws and requirements of probate for the state of Texas; this will save considerable time, stress and expense in the long run.
After hiring a lawyer, all financial documents should be gathered. The executor then files an application with the court for authority to administer the estate. The next step is then to locate creditors and payment documents such as loans or credit cards are satisfied.
Once all debts have been paid, assets can be distributed per the Will or by statutes if there is no Will or it has been deemed invalid. A knowledgeable probate attorney can simplify these steps to keep the processes running smoothly without delay or undue stress on the family.
Probate lawyers play a significant role in helping people manage the complicated process after losing a loved one. It is essential to research and find the best probate law firm for your situation, so you are supported through this difficult time. From the initial meeting to readying necessary documents and filing them with the court, Houston probate lawyers offer extensive counsel and services that can ensure your concerns are managed professionally.
When looking for any legal advice or guidance regarding probate matters, it's important to remember that you don't have to go through this alone—the right lawyer can support and guide you every step of the way. Understanding what each step entails, plus developing an understanding of who is legally responsible will help put your mind at ease when dealing with a probate issue in Texas.